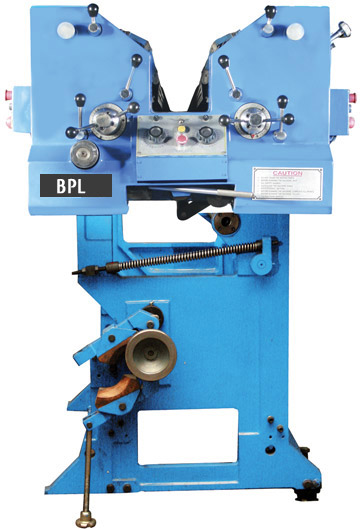 Machine Details
The mono unit is capable of printing one colour on either side of the web. Alternatively, a 2+0 colour combination can also be achieved using direct litho printing. The stack unit is identical to the mono unit but is without the reel stand. It can be mounted without the reel stand. It can be mounted on a 3-colour satellite to print 4+1, on mono unit to print 2+2.
Introduction and Standard Features
Mono unit Standard features :-
Lever-type swing-down ink fountain with overrides for ink fountain roller
Dynamically-balanced hard chrome plated solid plate and blanket cylinders
On the nose, slit or spring-type plate lock-up system
Manual side register system for both plate cylinders, on the run
Electro-mechanical web-break detector
Safety guards
Centralized oil pressure lubrication for drive gears
Provision for printing 2 colours on same side of web (direct litho)
Variable speed motorized dampening
Optional Features :-
Running circumferential register on the operating side
Heavy-duty compensator
Reel Stand with Pneumatic Brakes
Web Aligner
Pneumatic Reel lifters
Clutch on either side of unit
Automatic oil lubrication for operating side bearings and bushes
Infra-red web-break detector
Flying splicer
Reel rod, narrow gap blanket cylinder lockup
Motorized sidelay, circumferential, and unit to unit register control
Centralized water circulation system with refrigeration unit
Solid stainless steel plate and blanket cylinders
Pneumatic on/off controls
Brushmist dampening system
Spray dampening system
Remote ink control system
Automatic registration control
Dampening System
Cloth Dampening :- Comprising one form roller, a chrome-plated oscillating drum, a transfer roller and a motor-driven fountain roller, which can be regulated independently of press speed for precise control, continuous-feed dampening system is reliable and easy to use. Provision has been made to connect to a dampener solution circulation system
Brush Dampening (option)
The contactless Brushmist Dampening System incorporates independently variable-speed, motorized, stainless steel dampener fountain rollers, chrome-plated dampener vibrator rollers, rubber dampener form rollers and stainless steel trays with inlet/ outlet. This roller train ensures a uniform water film onto the plate mounted on the plate cylinder.
Spray Dampening (option) :-
Spray Dampening System is provided in place of Film or Brushiest dampening system. It increase efficiency and print quality, reduced start-up-waste, and savings in water and ink. Short payback makes the spray dampening system a necessary accessory for news paper presses.The system has patented valves allowing a higher spraying cycle frequency, delivery of precise water volumes, and uniform dampening of the plate cylinder.
Registration System
Manual registration :- It is the most basic and inexpensive method for registration control and comes as a standard accessory. Lateral and circumferential register control is given on machine itself with easy to use attributes.
Motorized register system (option) :- As an option BPL offers motorized register system, wherein, an operator can adjust registration laterally and circumferentially from a remote desk. This system offers greater control over the press in comparison to manual system and less manpower requirement. With motorized system, press comes with enclosure doors.
Inking System
The inking system consists of a swing-down ink fountain which allows easy cleaning. 24 keys/ lever across the width of the ink fountain roller control the ink feed. The ink override control mechanism on the ink fountain roller ensures quick distribution of the ink all along the surface of the roller during printing runs and also easy cleaning of the ink fountain.
The gear-driven roller train (Comprising of copper-plated vibrator rollers, ink transfer and ink form rubber roller, ink feed and ink film on the plate cylinder or plate. Lever-style ink fountain is supplied as an option in BPL presses.

On / Off Controls
Manual controls :- Manual on/off control is given on the machine itself for regulating ink, water, and impression.
Pneumatic Controls (option) :- BPL offers highly reliable pneumatic controls for its presses, whereby, an operator can actuate controls for ink, water, and impression from remote desk. This type of control gives operator greater control over the press and it also helps in reducing paper wastage.
Drive System
Shafted :- In this system a single drive shaft goes from the folder to the length of the press, driving each printing unit. In this arrangement high capacity motors are installed on the folder, which powers the entire press
Shaftless (option) :- The shaftless drive option provides excellent control over web tension from reelstand to folder through electronically synchronized AC motors. Which brings optimum control of the web position at all times. Subsequent benefits in press running are:
1 – Easy synchronization of printing units to a folder
2 – Optimum access throughout the press
3 – Faster, easier plate changer for regional editions
4 – Reliable of AC motor drives